Book Review
Handel's Operas 1726-1741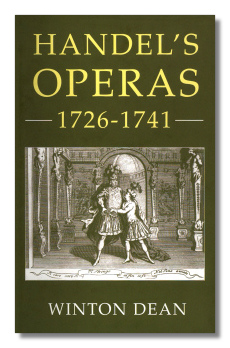 Winton Dean
Boydell & Brewer Ltd, 2006
ISBN-10: 1843832682
ISBN-13: 978-1843832683
At the age of 90 Winton Dean has just published the second of his two-part study of all Handel's operas, Handel's Operas 1726-1741. The project was first conceived in the 1960s but the first volume, which covered the period 1704 to 1726, itself was only eventually published by Oxford University Press in 1995… there are rumors that it is about to be updated (see my review of ISBN 1843835258). This second volume too is a monumental work, though it stretches to only 565 pages compared with the earlier volume's 816. It can be unhesitatingly recommended as the definitive study of the subject; it's suitable for music-lovers, performers and scholars. Meticulously-researched, impeccably laid-out, adequately illustrated and packed with every conceivable detail, it's a superb achievement for one of the world's greatest Handelians and should be acquired by all lovers of that composer's operas.
The operas covered in this second volume are Alessandro, Admeto Re di Tessaglia, Riccardo Primo Re d'Inghilterra, Siroe Re di Persia, Tolomeo Re di Egitto, Lotario, Partenope, Poro Re dell'Indie, Ezio, Sosarme Re di Media, Orlando, Arianna in Creta, Ariodante, Alcina, Atalanta, Arminio, Giustino, Berenice Regina di Egitto, Faramondo, Serse, Imeneo, Deidamia in four broad periods, 'The Rival Queens' dealing with the years 1726 to 1728, the 'Second Academy' (1729 to 1734), Covent Garden (1734 to 1737) and The Last Operas (1738 to 1741). By itself this list of operas alone should make one aware of Handel's amazing productivity. That is, a major opera every eight months or so on average. Not all of them well-known nor all fixtures in the current repertoire. But only a handful of these nearly two dozen is without at least one available recording; and none is without merit. So Dean doesn't have a hard case to make. And a case he makes every time: he is a persuasive advocate for the highly dramatic, human, intimate, grand and – above all – balanced works of art which Handel's operas are.
Each opera has from one to three dozen pages devoted to it in this comprehensive book. There's no set formula and all the major aspects are covered in just the right amount of detail… libretto/text, autograph, history, copies, editions. Although the text is somewhat segmented into these areas of detail, that's what's needed. The information opera by opera is never fragmented or dry. The longest portion in each chapter for each opera is freeform, a description of the plot, origins, versions, inspiration, commissioning or musical highlights; which is often where Dean's sheer passion for Handel and his genius comes through. Any variations/variora are meticulously set out and annotated. Where relevant Dean refers to, sources, and if necessary quotes other writers on Handel and his operas. These soon become 'friends'.
Musical examples are ample and added to clarify and illustrate, say, borrowings (those in Atalanta are a good case in point), differences between sources and final work as well as to emphasize important issues of performance make evaluative points about characterization, dramatic impact and scoring. Dean has managed to make his text eminently readable. The chapter on Orlando, for example, elides the passage of time between 1732 and our century by using the text from the printed libretto (exact sequences of composition, publication and revisions all clearly set out, of course) to set one of the greatest Ariosto operas in context, lead us through the plot and evaluate the dramatic and musical high points drawing on contemporary (e.g. that of Burney) reaction and analysis.
Where there are puzzles (for example: Who inspired (and advised on?) the inclusion of Zoroastro in Orlando), Dean pares down the extraneous and emphasizes the likely explanations. He then sets their exposition (in this case Handel's recent visit to Italy) in the context of what is known of the composer's life, other works or own writing; as well as what is musically, theatrically and at times socially consistent and feasible. This makes for compelling study as one approaches a new opera or revisits one already known. After a fairly short while Handel's Operas 1726-1741 seems indispensable. Such analysis as, "Handel evokes the supernatural aura, and the derangement of the eponymous hero, by stretching the bounds of the opera seria convention and, especially in Orlando's part, breaking off or distorting formal units. Zoroastro exercises his powers in accompagnatos of great range and splendour" being wholly typical of Dean's insight: forceful without gratuitousness; informed yet lively; and pithy but not reductive. Dean also presents evaluative material on the often poorly-appreciated musical and dramatic qualities of the operas.
There are a dozen or so plates of autograph manuscripts. And two 'Epilogs' dealing with the relationships between Handel's oratorios and operas; and their life on the modern stage.
Fifty pages (including two unlisted pages on the whereabouts of the extant libretti) are devoted to five appendices setting out:
structural analysis (numbers of accompagnatos; solos; duets, trios, quartets; choruses, etc.)
instrumentation
performances during Handel's lifetime
borrowings, and
modern (1925-2005) stage productions
These alone, while not being worth the price of the hardback: it's rather high, $85), are immensely valuable repositories of relevant information. It wasn't too hard to come at that last appendix, though: between 1754 (when Handel was still alive) and 1920 there were no performances of his operas at all, anywhere! As Dean says [p.487], "The revival of Handel's operas in the modern theatre… has been among the most remarkable phenomena in the history of the art." Although Dean's explanation admits of multiple causes, at heart he suggests that the romantic fashion, following Handel's death and the advent of opera seria (for Gesamtkunstwerk was antithetical to solo singing, da capo arias, secco recitatives and fewer ensembles) explain the neglect. The 'rewriting' of many of the operas (e.g. by Hagen) also made them into other than Handel's operas.; so little wonder that these failed to please in the long term – particularly as historically-inspired performances gained acceptance from the mid-C20th onwards. It was Germany that led the way; many twentieth century first performances were at Göttingen. Similarly crucial was the founding of the Handel Opera Society in 1955 in London. The rest, the abandonment of 'ponderous blowzy treatment of the orchestra', the restoration of heroic tenors at the correct pitch and altogether 'lighter textures [and] springier rhythms' together with the evolution of a 'healthy race of counter-tenors' have helped get us to the surely equally healthy state (Arkivmusic lists almost a hundred recordings of Handel operas) we are in today.
There is a select bibliography surprisingly running to under five pages here; and an index of Handel's works referred to in the text including and beyond the operas composed between 1726 and 1741. There is much new material in Handel's Operas 1726-1741 (Dean is arguably the world's, certainly the UK's, most distinguished Handel expert); and of course material unavailable elsewhere. To have it all in one well-organized place is very appealing. Nor is it a difficult book to use and get to know: it could well be on hand each time a (new) Handel opera CD or live performance is listened to. This book is not a biography: the last 18 or so years of Handel's life when he composed no further operas are not covered. Nor is it in any way an anthology. It's a splendid critical analysis and reference source for one of the most remarkable oeuvres of the Baroque era.
When asked recently if he could sum up the appeal of Handel's operas, Dean replied with an attribute that might surprise – and it's a recommendation that should surely point everyone in the right direction: "There's not a human emotion that remains unexpressed in Handel's operas." If not for the expert exegeses on the plots, the detailed cataloging of a variety of performing traditions, if not for the immense assembly of fact and interpretation in one volume, or if not for the fascinating record of almost all that's worth knowing about these works, then for that uniquely pleasing blend of pre-Classical music and drama, this book should belong to everyone who loves opera, Handel and the Baroque.
Copyright © 2007 by Mark Sealey.