Related Links
Recommended Links

Site News
CD Review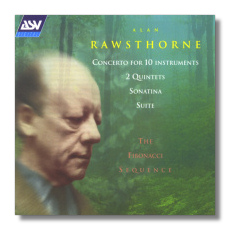 Chamber Music
Concerto for Ten Instruments
Sonatina for Flute, Oboe & Piano
Quintet for Clarinet, Horn, Violin, Cello & Piano
Suite for Flute, Viola & Harp
Quintet for Oboe, Clarinet, Horn, Bassoon & Piano
The Fibonacci Sequence
Academy Sound & Vision CDDCA1061 DDD 65:04
The music of Alan Rawsthorne (1905-1971) has the reputation of being difficult for listeners. I don't buy it; show me what is difficult about this tremendously diverting collection of his chamber music. True, Rawsthorne was not interested in idyllic pastorals, and he did not advance the self-canonizing English choral tradition, but that shouldn't prevent an honest composer from finding his place in the pantheon.
All of the music on this disc is exquisitely crafted. Rawsthorne had a sensitive ear for texture, and he treated his materials with respect and refinement. For him, compositional techniques such as serialism were only a means to an end; he preferred to write instinctively, and what wonderful instincts he had! The five works on this CD were written between 1961 and 1970, with the exception of the Sonatina, an early work from 1936. While there is no question of monotony, there would be no doubt, in a blindfold test, that all five works were by the same composer. Hindemith influenced Rawsthorne. Nevertheless, I feel that his neoclassical bent, his precision, and his dry wit gave him a greater affinity with contemporary French composers such as Poulenc and Françaix. These chamber pieces even remind me a bit of the work of Stravinsky, particularly the Octet for wind instruments.
These are première recordings of the Concerto, the Suite, and the Quintet for clarinet, horn, violin, cello, and piano. It saddens me that such lapidary music has had to wait so long for this privilege. I hope that my enthusiasm will be enough of an incentive for potential listeners. Is this one of the best chamber music CDs of 1999? Without a doubt, The Fibonacci Sequence, an English ensemble, plays this music with skill and understanding, and the recording, made in Rosslyn Hill Chapel in Hampstead, is warm and true.
Copyright © 1999, Raymond Tuttle