CD Review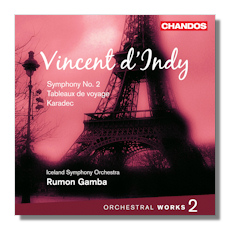 Orchestral Works, Volume 2
Symphony #2 in B Flat Major, Op. 57
Tableaux de voyage, Op. 36
Karadec, Op. 34
Iceland Symphony Orchestra/Rumon Gamba
Chandos CHAN10514 DDD 72:52
I gave a glowing review to Volume 1 when it appeared late in 2008. Now Gamba and his Icelandic band are back with Volume 2, and the results are less impressive, particularly because the competition – at least in the Symphony #2 – is fiercer.
Long-lived (1851-1931) Vincent d'Indy was a pupil of Franck, and a fervent admirer of Wagner. As a professor first at the Schola Cantorum and later at the Paris Conservatoire, he was respected if not always loved by the younger set. His Symphony on a French Mountain Air, really a concerto for piano and orchestra, is terrific fun, and as bracing as a cold shower on a hot day. Istar, which followed ten years later, had its day, but now is a rarity. Similarly, the Symphony #2 (1902-03), brilliantly recorded by Pierre Monteux in 1942, has fallen off the radar screen, perhaps because it sounds like a watered-down version of Franck's and Chausson's symphonies. It even contains not one but two "motto" themes, introduced in the first movement, that reappear in subsequent movements. (At least d'Indy's symphony is in the usual four movements!)
It takes a big personality to make this symphony sound like more than a water-color. Having an orchestra fluent in the French style helps. The aforementioned Monteux just about managed to do this – in San Francisco! – and Michel Plasson made a good go of it in Toulouse. Gamba seems unwilling or unable to give this symphony the advocacy it needs. Languidly atmospheric, the performance sighs along, but only infrequently are we given a feeling for the symphony's direction and structure. Monteux's and Plasson's recordings are out of print, however, so listeners might have to settle for Gamba anyway.
The other two works are even more obscure nowadays. The Tableaux de voyage (1892) is the composer's orchestration of six movements from a 13-movement piano suite dating from three years earlier. The voyage in question was a series of hiking tours that the composer took through the Black Forest and the Tyrol. It's not consequential music, but again, it's atmospheric, although I doubt most listeners would identify a specifically German or Austrian atmosphere. Karadec (1890) sounds like it might be a character from Star Trek, but it was a play by one André Alexandre for which d'Indy supplied the incidental music, later creating the three-movement suite recorded here. The three brief movements are "Prélude," "Chanson," and "Breton Wedding." In its modesty, this suite succeeds where the Second Symphony fails. In both of these shorter works, Gamba's performances are likeable but soft-centered. The sound on this CD is clear and warm – thank goodness!
Not as successful as Volume 1, this second collection of d'Indy's orchestral works is nevertheless welcome to those already bitten by the d'Indy bug.
Copyright © 2009, Raymond Tuttle