CD Review
The Perlman Edition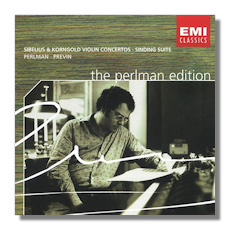 Itzhak Perlman, violin
Pittsburgh Symphony Orchestra/André Previn
EMI Classics 562590-2 ADD/DDD 69:09
Forty years after his Carnegie Hall debut, Itzhak Perlman is the subject of "The Perlman Edition," a series of reissues from EMI Classics. Before coming to EMI Records, Perlman was an RCA Victor recording artist, and he went on to make several recordings for Deutsche Grammophon. Some would argue, however, that Perlman was at his best in the 1970s, when most of the "Perlman Edition" recordings were made.
I reviewed several dozen recordings of the Sibelius a few years ago. Perlman's Pittsburgh reading (which I hadn't previously heard) impressed me as one of the best. It's more penetrating than his earlier effort with Erich Leinsdorf and the Boston Symphony Orchestra. Not only is Perlman more assured the second time around, Previn has far more to say than Leinsdorf, who seems a little uncomfortable with this concerto. The Pittsburgh Symphony Orchestra outplays the Bostoners (yes, it's true), and the late analog sound is brilliant. In short, this Sibelius Violin Concerto is on a par with excellent (but very different) versions recorded by Anne-Sophie Mutter, Isaac Stern, Tossy Spivakovsky, and Leonidas Kavakos.
Sinding's enjoyable Suite was recorded at the same sessions, and was the Sibelius's original coupling. Here's a work that is obscure only because it is neither fish nor fowl; it is not quite a concerto, yet at twelve minutes, it is too long to be an encore, and it demands too much of the soloist to be casually included on a program of light classics. Like Grieg's Holberg Suite, it fondly looks back at antique musical styles and forms, but you can't get through this piece without being a virtuoso. Who knew the composer of the evergreen Rustle of Spring had this in him? Delightful.
Korngold's concerto was recorded a little more than a year later. This was an early digital recording for EMI. It seems to me that the sound is much better now than it was upon its original release. Given Previn's experience in Hollywood, it will come as no surprise that he shows great sympathy for this score, and Perlman laps it up too, with a performance that is both tender and appropriately exultant. It is fashionable to put this work down for being more "Korn" than "gold," but Korngold was about as far removed from a Hollywood hack as a composer could be, and this concerto shows his mastery of melody and orchestration at every turn.
Coupling Sibelius and Sinding with Korngold was odd, but I suppose Previn and Pittsburgh are the reason why this was done. No matter – these are great performances, and it is good to have them back on CD.
Copyright © 2004, Raymond Tuttle