CD Review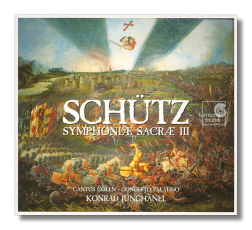 Symphoniæ Sacræ III
Symphoniarum sacrarum, tertia pars, SWV 398-418, Opus 12
Cantus Cölln
Concerto Palatino/Konrad Junghänel
Harmonia Mundi HMC901850.1 2CDs 126min
It was small surprise to lovers of the early Baroque that more than one contributor to December 2006 Gramophone's "Critics' Choice" named Schütz's "Symphoniæ Sacræ III" as a CD (actually two CDs – and over two glorious hours of accompanied choral music – individual items from two to nine minutes long) which they'd either like to receive or give: Konrad Junghänel and Cantus Cölln have again joined Concerto Palatino for another winner.
Although this is the first recording they've made of the "Symphoniæ Sacræ", their "Psalmen Davids" (Harmonia Mundi 901652) was nominated for the 1999 Grammy Award for "Best Choral Performance." This is a compelling recording so it's to be hoped they tackle Schütz's earlier Opus 6 (1629) and Opus 10 (1647) Symphoniæ Sacræ cycles, which currently have only middling performances – by Cappella Augustana under Messori on Brilliant Classics 92196, for instance.
Conventional wisdom often has it that Schütz's earlier collections display greater musicality; this recording gives that view the lie. It's resonant with both clean vocal lines and enchanting sonorousness. These serve to affirm – without undue piety – that relationship between collective and personal devotion so central to seventeenth century spirituality. They are unreservedly recommendable performances.
Heinrich Schütz (1585-1672) made a major contribution to the effective reconstruction of music in the German states after the Thirty Years War. Influenced by Italian style, spending two periods in Venice and studying with Giovanni Gabrieli, Schütz helped to develop a culture of counterpoint and rich instrumental color without which it's hard to imagine Bach able to flourish. Indeed, Spitta (Bach's nineteenth century biographer) described the Symphoniæ Sacræ III as laying the foundations for the development of Protestant music in Germany for the following hundred years.
Schütz was 65 when this third collection of Symphoniæ Sacræ was published. At least one work, the Concerto, "Siehe, dieser wird gesetzt zu einem Fall", SWV 410 (CD 2, track 3), was composed three decades earlier. It seems obvious that the composer was in effect summing up his life's work – although he lived almost a quarter of a century after their publication, in 1650.
The Symphoniæ Sacræ are vital, charged settings of New Testament texts. As often with Bach, Schütz is relatively free in the way he specifies performers… from five to eight soloists but always divided into between three and five vocal and two instrumental parts. He also imagines that supplementary forces, "complement-Chöre", will be used. That these are described as "optional" must surely be because such forces were not always available after the ravages of the Thirty Years War. Yet the dignity and glory of the music is best realized with the larger numbers present in this recording. What's more, when smaller forces are deployed – as in the "O Herr, hilf" (in CD 1, track 5), for example – the effect is all the more striking.
If you're unfamiliar with Schütz, this is an excellent place to start. From the description, you may also be surprised by the sheer variety of the instrumentation and the vocal, choral styles which Schütz uses. And – as does Bach – which he uses to ring the changes. The singers live up to such a challenge admirably. Their articulation and pacing are always fresh, yet polished. It's just as important not to lose sight of the sequences, the way in which religious and musical themes develop. Schütz doesn't often aspire to quite the immersion of words in the music that Bach does; delight is closer to the surface. The lively "Meister, wir wissen daß du wahrhaftig bist" SWV 414 (CD 2 track 7), for example, almost bubbles. The Italian influence once more.
This is repertoire, of course, where modern performers (have to) exercise latitude in realization: Junghänel (actually a lutenist) founded Cantus Cölln in 1987, the same year as Bruce Dickey and Charles Toet took the name Concerto Palatino from the historical Bolognese musicians playing for the two centuries up to Bach's time. The balance and sonority of these forces more than do the music justice. Junghänel takes the wise decision marginally to favor the vocal lines over the instrumental ensemble playing at times. Given the original sacred purpose of the music (Schütz was court composer to the Elector of Saxony in Dresden for over 50 years), that seems right.
So here is music in which to lose yourself as it grows on you, to learn for its beauty and sanguine joy. And to listen to for something new and fresh each time. This destined to become the reference recording.
Copyright © 2007, Mark Sealey