Related Links
Recommended Links

Site News
CD Review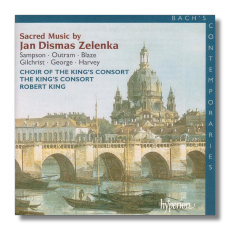 Sacred Music
Litaniae de Venerabili Sacramento Z147
Regina coeli laetare Z134
Salve Regina mater misericordiae Z135
Lectiones (from Officium Defunctorum Z47)
Invitatorium (from Officium Defunctorum Z47)
Carolyn Sampson, Rebecca Outram: sopranos
Robin Blaze, countertenor
James Gilchrist, tenor
Michael George, Peter Harvey: bass
Choir of the King's Consort
The King's Consort/Robert King
Hyperion CDA67350 74m DDD
This disc is the fourth in the outstanding series dedicated to the contemporaries of Johann Sebastian Bach and features the music of Jan Dismas Zelenka, perhaps one of Bohemia's most outstanding sacred music composers.
The team of soloists is another vintage lot with Robin Blaze making another of his excellent contributions to this genre. Zelenka's music is always very pleasant and one must take particular notice of his exquisite 'Salve Regina', a truly exquisite work that is brimful and replete with melodies and fugal counterpoint.
The "lianiae' is also very beautiful with some fine passages for the bass and tenor whilst the excerpts from 'Officium Defunctorum' are also quite commendable. Finally there is also the short 'Regina Coeli' that is another fascinating piece showing Zelenka's taste for the miniature form.
You may have gathered that my enthusiasm for this disc is quite pronounced! Add all this to a stunning front cover painting and the usually fastidiously detailed notes, this release is recommended with all possible enthusiasm.
Copyright © 2003, Gerald Fenech