Related Links
Recommended Links

Site News
CD Review
Black Hawk Down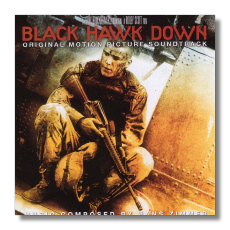 Original Motion Picture Soundtrack by Hans Zimmer and Lisa Gerrard
Decca 017012-2 70m DDD
Hans Zimmer is now a household name in the world of film music. Ever since his ground-breaking score for 'The Thin Red Line', his scoring has been much in demand with the big American film companies.
Ridley Scott's latest epic, 'Black Hawk Down' is set in Somalia where an ill-fated American expedition ended in violent disaster way back in 1993, almost another Vietnam for those unfortunate Marines who were caught like lambs to the slaughter. Zimmer's music is suitably energetic and frission led with evocative numbers such as 'Hunger', 'Burra Burra' and the tense-laden 'Synchrotone'. The use of electric guitars and other similar sound effects did not always please me but I guess the modernity of the story could take them. Lisa Gerrard is her usual stunning self in partnership with Denez Prigent in 'Gortoz A Ran – J'Attends' and her contribution is heard permeated in almost all the numbers.
A rough, violently-driven score then, far away from the refinement of 'The Thin Red Line' or the apocryphal 'Gladiator', but a brilliant soundtrack nonetheless, 'Black Hawk Down' continues to confirm Zimmer's stature as a no-holds barred film composer for the 21st century.
Copyright © 2002, Gerald Fenech