CD Review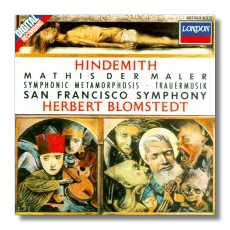 Symphony "Mathis der Maler"
Trauermusik
Symphonic Metamorphosis of Themes by Carl Maria von Weber
San Francisco Symphony Orchestra/Herbert Blomstedt
Geraldine Walther, viola
London 421523-2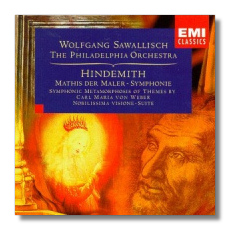 Symphonic Metamorphosis of Themes by Carl Maria von Weber
Nobilissima Visione Suite
Symphony "Mathis der Maler"
Philadelphia Orchestra/Wolfgang Sawallisch
EMI Classics 55230 2
One of the five major innovators and masters of 20th-century music, Hindemith currently languishes in relative obscurity, a victim mainly of modern-music polemics, in which aestheticians astutely point out that he's not Schoenberg. Out of a large catalogue encompassing every genre, he has become known for two works: the Symphony "Mathis der Maler" and the Symphonic Metamorphosis of Themes by Weber. Important scores remain commercially unrecorded, although a mini-revival has begun: CPO has brought out a multi-volume set of, I believe, the complete instrumental works. Robert Shaw leads the Atlanta Symphony and Chorus in "When Lilacs Last in the Dooryard Bloom'd" on Telarc. Now we need the operas, chamber music, and other choral pieces, and I'm convinced that Hindemith's time will eventually come around again. The music is simply too good. Of course, I also have said the same of Louis Spohr.
Hindemith's counterpoint, like Bach's, enhances the dance of his music. I know of few other composers whose work depends so much on rhythm. What so often in performance comes across as an undifferentiated "motor rhythm" actually consists of the cross-accents of separate motific cells. Therefore, an ideal account of Hindemith must rest on clean attack and sharp articulation. This is especially true of the quick music. The slow music needs an ever-moving forward impulse as well.
In 1990, Blomstedt and the San Francisco came out with the best recording of Strauss's Alpensinfonie - a landmark in Strauss on disc, for it compelled major re-evaluation of the work. Blomstedt not only kept the orchestral textures clear, he showed the symphony's coherence as something more than mere travelogue. Furthermore, Blomstedt imbued the symphony with a nobility of spirit that most conductors reserve for Bruckner and Mahler. The same forces also produced a very fine (though, this time, not groundbreaking) Heldenleben. Well, "noble" fits Blomstedt's Hindemith program to a fare-thee-well, so you can imagine how seeing this disc in the mail-order catalogue got my blood racing.
Blomstedt's "Mathis" Symphony faces fierce competition in Jascha Horenstein's 1972 reading with the London Symphony (according to my Schwann, available on Chandos). London scores on sound (gorgeous and still clear). Blomstedt, like Horenstein, clearly knows the rhythmic secret to Hindemith, and the San Francisco level of playing easily bests the LSO. And yet, the performance still comes off second-best. It took me a while to pin down the problem, since so much of Blomstedt's work is that much more beautiful than Horenstein's. For me, the nub of the difference comes down to 5-7 minutes into the symphony's first movement - a breathtaking display of contrapuntal virtuosity. Here, Hindemith juggles all of the movement's motives at once, throwing up new combinations and culminating in the simultaneous sounding of all motives. Horenstein always seems to know the proper balance at any given instant and each motive keeps its individual identity in the general texture. Blomstedt hesitates more in this regard and seems to care more for orchestral sonority, so that at the climax, instead of the interplay of motives, we get an orchestral "swirly." Finally, Horenstein's performance just puts out more volts.
As to the Symphonic Metamorphosis, I've always been torn between the Szell and the Bernstein versions, both of which have their virtues and drawbacks. The Szell falls down in the first movement, with a too-quick tempo. Dohnányi, in an interview with Tim Page, observed that at times he felt as if Szell took one breath before a concert and one breath after. Or to quote Bob Morin, "the spring is wound too tight." On the other hand, in every movement Szell exhibits the Hindemithian virtues of dance-like rhythm, clear texture, inevitable forward impulse, and a beautiful articulation of the overall structure. Bernstein's virtue lies in his rethinking of the score. He deliberately roughs up the sound. The opening movement is as about as pesante as I've ever heard it. The Turandot scherzo becomes a riot of orchestral raspberries, as Bernstein emphasizes the subsidiary shakes (probably figuring out that the audience has assimilated the tune). Bernstein usually falls down by hitting a climax too soon so that he has nowhere left to go (it's almost as if he never met a forte he didn't like). Blomstedt lacks Szell's electricity and Bernstein's wit. The rhythm and attack are both pretty soft. He seems asleep at the baton.
On the other hand, Blomstedt's reading of Trauermusik is the best I've heard on record - a beautiful, moving, and coherent performance.
Ormandy had put out one of the best-selling Hindemith LPs of Mathis and the Metamorphosis. I'm convinced it sold because of a spiffy cover (Ormandy had trouble conducting contrapuntal music) and great engineering. So when I saw the Philly redoing the material, I was intrigued. I first heard some very fine recordings Sawallisch made with the Philharmonia back in the early stereo era. I haven't bought a Philadelphia Orchestra recording since Muti ascended the podium (I'm not one of his biggest fans), and I was interested to see how the new guy turned out. The interpretations plod. Even worse, the level of playing has fallen to a new low. I doubt that the Philly can still be considered in the Top 5, especially with San Francisco and other orchestras like St. Louis, LA, and Atlanta such strong contenders. The Mathis and Metamorphosis are rhythmic porridge, and the Nobilissima Visione failed to make me forget Klemperer's reading with the Philharmonia. Do yourself a favor. Give this one a miss.
Copyright © 1996, Steve Schwartz