Related Links
Recommended Links

Site News
CD Review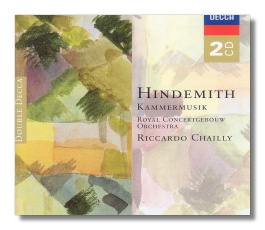 Kammermusik
Kammermusik #1 for Small Orchestra, Op. 24 #1
Kammermusik "Kleine Kammermusik" for Wind Quintet, Op. 24 #2
Kammermusik #2 for Piano & Orchestra, Op. 36 #1
Kammermusik #3 for Cello & Orchestra, Op. 36 #2
Kammermusik #4 for Violin & Orchestra, Op. 36 #3
Kammermusik #5 for Viola & Orchestra, Op. 36 #4
Kammermusik #6 for Viola d'Amore & Chamber Orchestra, Op. 46 #1
Kammermusik #7 for Organ & Chamber Orchestra, Op. 46 #2
Ronald Brautigam, piano
Lynn Harrell, cello
Kim Kashkashian, violin
Konstanty Kulka, viola
Norbert Blume, viola d'amore
Leo van Doeselaar, organ
Amsterdam Concertgebouw Orchestra/Riccardo Chailly
Decca 473722-2 2CDs 138m DDD
This exquisite 2-disc set is a straight reissue from a previous full-price set and is thus doubly welcome for Hindemith and Chailly enthusiasts.
The 'Kammermusik' sequences are lovely, intricate works that occasionally tend to be rather complex in layout but are extremely rewarding in character. What's more, the roster of soloists established for Chailly here are of the highest quality throughout.
It would be difficult to pinpoint certain movements but as a whole these works offer considerable interests for the intellectually minded. Sometimes the music can tend to being tedious but the overall experience is of an artistic challenge of the highest order.
Calum Macdonald's notes are essential readings to accompany these works and those who faltered snapping these discs up before should now invest in them at a substantially lower price.
Copyright © 2003, Gerald Fenech