Related Links
Recommended Links

Site News
CD Review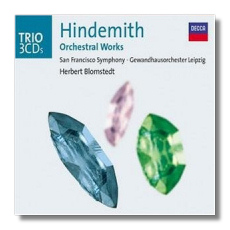 Symphonie 'Mathis der Maler'
Trauermusik for viola and strings
Symphonic metamorphosis of Themes by Carl Maria von Weber
Konzertmusik for strings and brass
Der Schwanendreher (Concerto after Old Folk Songs for Viola and Small Orchestra)
Nobilissima Visione – Suite
Symphonia Serena
Symphonie 'Die Harmonie der Welt'
Geraldine Walther, viola
San Francisco Symphony Orchestra/Herbert Blomstedt
Gewandhaus Orchestra Leipzig/Herbert Blomstedt
Decca Trio 475264-2 3CDs 190m
This is a useful compendium of most of Hindemith's orchestral and concertante music previously available on three full price discs. The sound is of consistently superb quality and one cannot find much fault with Blomstedt's committed interpretations with these two top class orchestras.
The first disc brings an apocalyptic performance of 'Mathis der Maler' with an awesome 'Angelic Concert' and a truly massive 'Temptations of St. Anthony'. This has to be my preferred version of this work although Karajan's 1960 Berlin Philharmonic Orchestra recording is also pretty competitive after all these years. The disc also includes a fine 'Trauermusik' with Geraldine Walther's sublime viola and an equally beautiful 'Symphonic Metamorphosis of Themes by Carl Maria von Weber'.
In the second disc we are provided with the eclectic 'Concert Music for Strings and Brass', an excellent version conducted with alacrity by Blomstedt and quite brilliantly played by the SFSO. Walther returns with an equally exquisite 'Der Schwanendreher' and the disc concludes with what I feel is Hindemith's best work, the 'Nobilissima Visione', another beautifully charged interpretation.
The final disc features the Gewandhaus Orchestra, Leipzig and includes two of the longer symphonic works. The Symphonia Serena is quite a massive work and the orchestra is well suited to the darker shades and nuances that permeate the score. In 'Harmonie der Welt', we have a three movement structure in a programmatic format that's is also very original. The concluding 'Musica Mundana' is particularly attractive.
To sum up, these are excellent performances of Hindemith's music that come up extremely well in an attractively-priced collection. Notes are of a high standard but it is a pity we miss the most ingenious covers that originally adorned these recordings. However that should not detract from the overall magnetism of the set which is a great bargain.
Copyright © 2003, Gerald Fenech