CD Review
Vincent d'Indy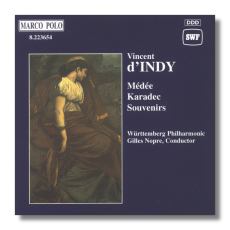 Suites & Symphonic Poem
Suite "Médée", Op. 47
Suite "Karadec", Op. 34
Symphonic Poem "Souvenirs", Op. 64
Württemberg Philharmonic Orchestra/Gilles Nopre
Marco Polo 8.223654 DDD 1994 60:05
What does one see when one looks in the mirror? Beyond the obvious face, one's eye may decipher the entire sweep of a lifetime of memories. Memories both pleasant and sad may loom large in that reflected image. Marco Polo has issued a disc containing three works by Frenchman Vincent D'Indy. Spanning roughly fifteen years, the music provides a glimpse of this man's reflection and his varied memories.
The earliest music on the disc is from Karadec (1892). Presented are three excerpts from that work in the form of a "petite suite". The prevailing mood of the music is that of gentle nostalgia, though there are moments of heightened emotion. D'Indy made use of Breton folk material in his finale, which takes the form of a happy wedding celebration.
The 1898 production of D'Indy's theatrical work Médée marked the beginning of his newly founded Schola Cantorum, a forum for the composition and performance of new French music. The influences of two composers (Wagner and Franck) are felt in Médée. The work includes six scenes: a Prélude, pantomime, portrait of Médea, Médea and Jason, and Triumph of Aurora. D'Indy explores this literary subject using subtle musical poetry.
The final work on the disc is also its most personal, the poème pour orchestre, Souvenirs, of 1905. While the other works so far have provided a view of D'Indy's "working music" by showing his skill at adapting folk material and expressing poetry in music, Souvenirs is D'Indy's autobiography. There is a sense of sadness and lost love in this creation, not surprising since the death of D'Indy's wife inspired it. The music is wonderfully affecting, and recalls not only the composer's suffering but much of his joy. D'Indy allows us to see and smell the beautiful flower of his life before and after its passing.
Conductor Gilles Nopre and the Württemberg Philharmonic are up to the task of recreating the understated shades of this music. The unflashy but competent recording quality assists in providing a clear reflection of the composer. Recommended, then, especially for the brave earnestness of Souvenirs.
Copyright © 1996, Peter S. Murano