CD Review
Judith Lang Zaimont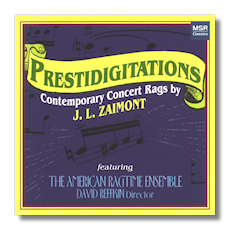 Prestidigitations: Contemporary Concert Rags
Bubble-Up Rag
Judy's Rag
Lazy Beguine
Hesitation Rag
Snazzy Sonata
Reflective Rag
Serenade
Elizabeth Ann Owens, flute
Nanette Kaplan Solomon, piano
Joanne Polk, piano
Doris Lang Kosloff, piano
Judith Lang Zaimont, piano
The American Ragtime Ensemble/David Reffkin
MSR Classics MS1238 57:35 2007
Summary for the Busy Executive: Serious, but far from somber.
The end of the ragtime era pretty much coincided with the conclusion of the First World War. Rag became jazz, and jazz didn't really look back. Ragtime composers either died off, like Scott Joplin, or, like Eubie Blake, accommodated themselves to new styles and genres. When I was a lad, ragtime was really a kind of "novelty" music – performers like Crazy Otto and "Big Tiny" Little, wearing bowler hats and garters on their sleeves and chomping on cigars in a Disneyfication of a complex past. The idea apparently was to play the music as fast and as machine-like as possible. However, in the Fifties, a truer picture of the era began to emerge with Blesh and Janis' trailblazing They All Played Ragtime and with elegant entertainers like Max Morath. However, in the Sixties, this newer look at ragtime entered further into the mainstream. Joshua Rifkin's Joplin albums and later Gunther Schuller and the New England Conservatory Ragtime Ensemble's rendition of "The Red Back Book" became crossover hits of the time, and, of course, Marvin Hamlisch's monster score for The Sting made the cash registers syncopate "Hallelujah." It's hard to think of any of this as controversial, but Rifkin in particular found himself on the receiving end of sourpuss critics who accused him of playing Joplin like Chopin. Rifkin's response was, essentially, "But of course." Rifkin reminded us of the subtlety of Joplin (and Lamb and Turpin), incompatible with the Shakey's Pizza Parlor atmosphere that had accreted onto the music – in effect, slathering an already-beautiful girl in hooker make-up – and his view eventually won out.
The interest of classical composers in ragtime paralleled popular interest. Debussy's "Golliwog Cakewalk" stakes out the beginning. Stravinsky's "Ragtime" and L'Histoire du Soldat, Milhaud's Rag-Caprices, and numerous little pieces by composers like Hindemith, Schulhoff, and Martinů mark, really, the end of the interest for a number of decades. When William Bolcom showed his rags to his teacher, Darius Milhaud, Milhaud commented on how old-fashioned they were. However, the Sixties and Seventies saw a rekindling of interest from such composers as Bolcom, William Albright, and Judith Lang Zaimont.
One can see many different approaches in all this activity. Somebody like Stravinsky, for example, creates through the abstraction of stylistic elements in the model, a music very close to what he already writes. One can say the same of Milhaud and the rest of the Europeans. In the later ragtime revival, composers like Bolcom and Albright tended to keep closer to traditional models, although with a more knowing structural sophistication. Zaimont's rags lie somewhere between Stravinsky and Bolcom, though closer to Bolcom than to Stravinsky. Zaimont had at least heard rags before she began to compose them – unlike Stravinsky, by the way. That is, you can recognize these works as rags, but the harmonies lie closer to Zaimont's straight-classical works, and in many cases the pieces inhabit complicated psychological neighborhoods. For example "Bubble-Up Rag," the most elaborate on the program at nearly ten minutes, not only uses ragtime elements but also here and there Ravel harmonies and bits of American interwar neoclassicism within her own strong idiom. "Reflective Rag" strikes a very deep note indeed, especially in the composer's own solo performance.
I've got to rave about this disc for its material and its presentation. All the music I find flat-out wonderful, over a wide emotional spectrum. All the performers, first-rate, delve into the material, and all come up with very individual interpretations. One sees this most clearly, of course, in the various arrangements of the same pieces – notably, the "Reflective Rag" and "Lazy Beguine." I hear "Lazy Beguine," a deliberately "light" piece, as less a beguine than a tango, attractive in much the same way as Anderson's "Blue Tango." Light music is harder to bring off than it sounds; it takes a real gift. After all, not every composer can write an immediately-attractive or memorable melody. That particular talent has little to do with musical quality, one way or the other, although I don't sneer at a great melody when I hear one. Beethoven, after all, wrote few good tunes. Mozart, on the other hand, seemed to shake 'em out of his pockets. Zaimont has the gift, although she can do other things as well. However, the three arrangements of "Reflective Rag" shows us the most about Zaimont's range. "Reflective Rag" strikes me as the oldest in sensibility. It evokes not the ragtime era, but American modernism in the Forties – Copland, Gould, and Bernstein, for example. David Reffkin's small-group arrangement is attractively straightforward, a tasteful watercolor of the original black-and-white – Kansas to Oz, so to speak. Zaimont's own arrangement for flute and piano opens a window on greater emotion, while it seems to add a couple of contrapuntal lines here and there. However, the piano original walks through the door, from Oz back to Kansas. It turns out Kansas was where you wanted to be all along. For me, it plumbs Chopin-like depths of feeling, especially with the composer at the piano. Rhythmically, she pulls and pushes the line, without stepping in a pile of schmaltz, and the music, it so happens, not only can take it, but blossoms into beauty. "Judy's Rag," its somewhat zany but no-less deep companion, reminds me of a Chopin scherzo, as it capers and skitters about. Would these pieces have sung in this way without the influence of Morath, Rifkin, and Schuller? I have no idea, but it's intriguing to consider.
The two most artistically ambitious pieces on the program, "Hesitation Rag" and "Serenade," stretch the vernacular as far as it can go. "Hesitation Rag" uses ragtime tropes in much the same way Barber uses boogie-woogie in the first of his Excursions. The figures become almost beside the point, which is yearning and reflection. "Serenade" goes even further. In fact, I'd say Zaimont breaks the connection to rag and the ragtime era altogether, while retaining a jazz or even pop quality within a very serious piece indeed. "Serenade" and "Reflective Rag" are my two favorites on the disc.
A younger Judith Lang Zaimont had a piano act with her sister, Doris Lang Kosloff. They played on the radio, back when radio was far more diverse in its musical programming, released at least one LP that I know about (it included the Poulenc 2-piano sonata, I believe), and – probably their show-biz highpoint – appeared on TV with Mitch Miller and the Sing-along Gang (my dry cleaner's brother sang tenor with the group). Snazzy Sonata, for two pianos, was written with the musical tastes of the Lang Sisters' father in mind. It consists of four movements: "Moderato: Two-Step"; "Lazy Beguine"; "Bebop Scherzo"; "Grande Valse Brillante." The "Two-Step" of course takes us back to ragtime. The "Bebop Scherzo" is tamer than real bebop, but it has the same frenetic energy, and it contains a nice musical joke. The "Valse" changes phrase lengths so much, it may not even keep to three-quarter time. Again, Zaimont puts in little jokes, especially as the valse keeps threatening to break out into "A Bicycle Built for Two." Above all, the piece justifies Zaimont's designation of "An Entertainment."
Again, the performers do really fine jobs. I was particularly struck by the different pianists. Zaimont, as befits the professional pianist who wrote these works, wrings the most from of her solos. On the other hand, Joanne Polk, Nanette Kaplan Solomon, and Doris Kosloff possess more ringing tones. Polk meets the significant challenge of the "Hesitation Rag," spinning out a great sound and alert to the emotional nuances of the piece – a very elegant reading. David Reffkin contributes clear and refined arrangements, and his American Ragtime Ensemble plays delicately and with taste. I don't slight flutist Immanuel Davis if I give the edge to Elizabeth Ann Owens. Then again, she has the advantage of the composer accompanying her. Whatever their merit as rags, I prefer Zaimont's to Bolcom's as music. This may well end up as one of my best discs of the year.
Copyright © 2009, Steve Schwartz