CD Review
Jânis Ivanovs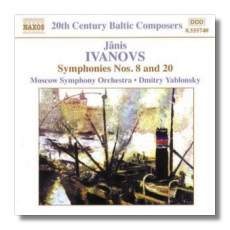 Symphony #8 in B minor
Symphony #20 in E Flat Major
Moscow Symphony Orchestra/Dmitry Yablonsky
Naxos 8.555740 DDD 60:10
The fall of the Soviet Union has revealed the wealth of music composed in its former states. One wonders whether Moscow felt it was in the best interest of Russian composers to limit the export of classical music from the Baltic states, including Latvia, the homeland of Jânis Ivanovs (1906-1983). The Baltic composers whose work has made it to the West (Pärt, Vasks, Sumera, and others) are so independent in spirit; one can understand why Communist party officials might have wanted their music kept under wraps, if not suppressed entirely.)
Ivanovs completed twenty symphonies. (There is an incomplete Symphony #21. Also, the First Symphony, according to Naxos' booklet notes, is lost, although it appears that the Campion label has recorded it, so perhaps it is not lost after all!) This was my first exposure to his work, and what I heard here impressed me greatly. While I have yet to discern a voice completely his own in these two symphonies, Ivanovs has a gift for melody and expression within the rather conservative boundaries to which he adheres. Yes, one can hear Shostakovich and (especially) Prokofieff, particularly in their most dolefully melodic moods, and I understand that Latvian folk elements have been used as well. However, the odd thing about his music – or perhaps it is not odd at all – is that it is rather cosmopolitan. If someone had told me that these symphonies were the work of an American composer, I probably would have believed him. Perhaps it is the not unpleasant whiff of film music that occasionally comes out of these symphonies' pores.
The Eighth Symphony (1956) is "lyrico-psychological and dramatic," we are told in the booklet notes. Indeed, the music seems to evoke different aspects of a single and intelligent personality. The third movement's frequent "dying falls," melodically speaking, make it particularly moving, not unlike Prokofieff's Sixth Symphony. Ivanovs' muse is not overly complicated. Nevertheless, it sings with a voice that is confident and rich.
Symphony #20 was completed in 1981. The Eighth Symphony's exalted melancholy here is replaced by a less compromising atmosphere. Ivanovs wrote that this symphony was about memories – his own, may we assume? Here, the writing is more concentrated, and this symphony is some seven minutes shorter than the Eighth. The third movement is a tiny Menuetto subtitled "Reminiscenza" (Reminiscence) and it serves as a ironic hinge between an elegiac Adagio and the impulsive Allegro con brio finale.
Yablonsky began recording Ivanovs' symphonies for Marco Polo, Naxos' full-priced sister label, with the Latvian National Symphony Orchestra. This disc's appearance on Naxos – with the accomplished Moscow Symphony Orchestra – is good news for both new explorers, and for those continuing along with the Ivanovs series. With performances this good and music this sincere and attractive, one can imagine wanting to acquaint oneself with as much of this composer's symphonic output as possible. This recording is from 1997, but apparently this is its first release. Fine engineering.
Copyright © 2004, Raymond Tuttle