CD Review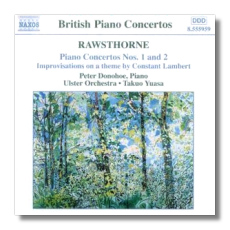 Piano Concertos
Piano Concerto #1
Piano Concerto #2
Improvisation on a Theme by Constant Lambert
Peter Donohoe, piano
Ulster Orchestra/Takuo Yuasa
Naxos 8.555959 DDD 56:19
Good, modern recordings of these works were needed, and these are excellent. At the same time, older collectors probably won't be giving up vintage performances, both recorded in 1956, by Moura Lympany (in #1) and Denis Matthews (in #2) – reissued together as part of EMI Classics 66935. Alan Rawsthorne completed an early version of the First Concerto in 1939; he revised it in 1942, and of course it is that version that has been recorded here. This is a uniformly brilliant work whose Neoclassical nature is suggested by the titles of its movements: "Capriccio," "Chaconne," and "Tarantella." Rawsthorne's writing is tonal, yet he doesn't stay in one key for very long, and this gives his music a nervous, unsettled character in spite of its high spirits. In the last movement, a quotation of the leftist anthem "Bandiera rossa" is supposed to show Rawsthorne's support for the Republicans in the Spanish Civil War. Throughout the concerto, the soloist is put through his paces with miles of finger-bending figurations. That's no surprise, as Rawsthorne himself was a fine pianist, and he even studied with Egon Petri.
The less flashy Second Concerto dates from 1951. Unusually, it is in four movements. As Brahms did in his Second Piano Concerto, Rawsthorne uses a scherzo-like movement as a transition between the purposeful first movement and the nostalgic third. The finale is based on a theme whose capacity for crassness would do Malcolm Arnold proud. According to the composer, this tune is "saved, one hopes, from complete banality by its metrical construction (two-four/three-eight)." Ungainly but smooth, this theme gives the audience something to whistle on the way home.
Rawsthorne was friendly with composer Constant Lambert, and after Lambert died in 1951, Rawsthorne married Lambert's widow Isabel. (Francis Bacon, another "friend of the family," painted portraits of both Alan and Isabel Rawsthorne.) Written in 1960, the Improvisations on a Theme by Constant Lambert are dedicated to Isabel. The theme comes from Lambert's ballet Tiresias, in whose orchestration Rawsthorne had a hand. As with the concertos, the Improvisations (which, of course, they really are not) are intellectually stimulating and well crafted. Rawsthorne has been called an English Hindemith, and the comparison is not far off the mark.
Donohoe is a strong player, and he is well up to the technical challenges posed by these three works. In the First Concerto, he is significantly faster than Lympany, although he is closer to Matthews's tempos in the Second. The Ulster Orchestra doesn't have the personality of the Philharmonia or the BBC Symphony Orchestra (Lympany's and Matthews's partners respectively) but Naxos' clearer engineering compensates.
Copyright © 2003, Raymond Tuttle