CD Review
Mark Isaacs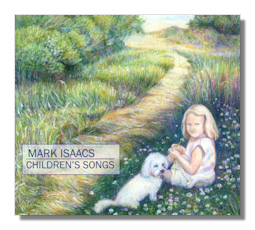 Children Songs
Reedy Pond
Gentle Swing
Games
Lullaby I
Dreamtime
Home
Toying
Are We There Yet?
The River
Minuet in G
In Your Own Backyard
Melody in Two Parts
More Games
Lullaby II
Bunyip's Return
Gavotte
Boat Song
Abschied (nicht)
Mark Isaacs, piano
Soundbrush Records SR1029 47m
Mark Isaacs (b. 1958) is an Australian composer/pianist who has achieved notice in both the classical and jazz worlds. His father is a jazz guitarist and mother a classically trained pianist. Isaacs studied composition and piano at the Sydney Conservatory and Eastman School of Music. His output encompasses both classical and jazz works and takes in orchestral music – including a symphony (2013) as well as works for piano and orchestra – chamber music, and various compositions for piano, guitar, violin and other instruments. He has also written for big band ensembles and for film.
Children's Songs (2011) is a collection of eighteen piano pieces that describe a childhood scene or mood and divulge both classical and jazz elements. Most of the eighteen are fairly simple in construction and thematic material and all are brief: durations range from about one and a half minutes to four and a half minutes. Often, the mood of the pieces is a mixture of the wistful and playful, and tempos rarely break from moderate pacing. While there is an occasional touch of blues and pop styles, the music mostly tends toward the classical side in its expressive language. James Gavin, who authored the album notes, cites the influence here of Schumann (as heard in Kinderszenen), Bach, Mozart, Debussy, Grainger, Bartók and Berg. I hear some Debussy and Schumann alright, and more tenuously Mozart, Grainger and Berg, but I'm not sure about Bach. I do note vaguely a dash of Prokofiev, whose children's music though was decidedly much livelier and more varied.
Much of Isaacs' music here is dreamy or at least exhibits gently rocking rhythms or other elements that suggest relaxed moods or serenity. In fact some listeners would regard almost every piece, to one degree or another, as fitting into that mold. I'll mention a few of the more notable of these: the mesmerizing Gentle Swing (#2) is very soothing and innocent, while Lullaby (#4) and Dreamtime (#5) may put you to sleep – but not from boredom; Lullaby II (#14), Boat Song (#17) and Abscheid (#18) are also hypnotic, serene pieces of great charm, the latter perhaps the most memorable piece in the collection. Other distinguished efforts here include Are We There Yet? (#8), which is the longest piece and the most difficult to classify: lasting over four minutes, the music seems to be tolling insistently at first, and then the tolling fades slowly away, the whole depicting anxious children gradually becoming bored from a long automobile trip and falling sleep. The ensuing piece, The River, is perhaps the most complex of the eighteen works and is also the most Debussyan, although it never actually sounds derivative. Home (#6) is disarmingly sentimental and reassuring – also one of the better pieces here – while Minuet in G (#10), which recalls Prokofiev looking back to Haydn and Mozart – especially in the middle section, is also quite an attractive nugget.
The performances by the composer are beyond cavil – who knows the music better than he? The sound reproduction is fine and the album notes informative. If you believe, like many, that well-crafted children's music is too good for just children, you'll find this quite an attractive disc.
Copyright © 2013, Robert Cummings