CD Review
Baroque Music of the Bolivian Rainforest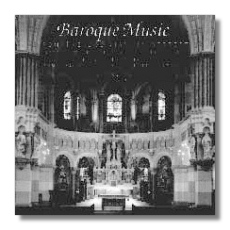 Domenico Zipoli
Domine in adjuvandum me festina
Dixit Dominus
Jesu Corona Virginum
Domine quinque
Euge serve bone
Nisi Dominus
Fidelis servus
Dixit Dominus
Beatus ille servus
Laudate pueri
Serve bone
Laudate Dominum omnes gentes
Lectio Brevis (Ecclesiastes 31)
Ascendit Deus in jubilatione
Ave Maris Stella
Justum deduxit
Magnificat
Benedicamus Domino
Salve Regina
The Cathedral Singers
Symphony of the Shores Chamber Players/Piotr Nawrot
Tech CD 101
The brutality of the Spanish in their New World colonies has always appalled me, and I don't claim more sensitivity than anyone else. That said, the music that Spanish churchmen wrote here is a glorious treasure waiting discovery. The music's style belongs to the Middle Baroque. If you like Vivaldi's or Alessandro Scarlatti's sacred music, this comes as an old friend. If you haven't heard this repertoire, prepare yourself for pure delight.
Some transplanted Spanish composers made use of indigenous and Black vernacular music and produced exciting results. The composers here, however, look steadily at Europe. This is elegant stuff, with vigorous effects achieved through the simplest means - the quick bows on repeated notes for propulsion, the violin-like ornamentation, despite the actual instrument (even in voices), and tunes as simple and refreshing as a glass of good water.
The CD also represents the high level of local music-making. This is a live (believe it or not) performance at a church in Techny (formerly Shermerville), Illinois. There are no hesitations and a very low incidence of clams. It could very easily have been a studio recording. Furthermore, it reaches inspired levels of playing. The ensemble is rhythmically taut, the choir dulcet and responsive, with clear diction and tremendous line. The soloists, none of whom you've heard of, work at the level of Emma Kirkby. The voices are generally small, but sweet, reminding one of the innocent tone of boy trebles, but with more color to the sound. The general effect is one of simple joy, which fits the music like gravy on rice. The players go with modern instruments but in small numbers (fourteen, including positiv organ continuo; 15-voice choir).
Of course, this all argues for a fantastic director. Nawrot, a native Pole, certainly qualifies, and he has a long and deep relationship with choral singing in general and with this repertoire in particular, not only having produced a doctoral dissertation on Vesper Music in the Reductions of Paraguay, but also actually having worked in Bolivia as a cathedral choral director with access to original sources. Authentic instruments or no, he obviously understands this music and produces performances of ethereal lightness and grace.
Copyright © 1997, Steve Schwartz