Related Links
Recommended Links

Site News
Books About Music
Biographies

---
Intimate Letters: Leoš Janáček to Kamila Stosslova. John Tyrrell (Contributor), et al. Princeton University Press. 1994. ISBN 0691036489 (hardcover), 0571225101 (paperback).

Over the last decade of his life the Czech composer Leoš Janáček wrote regularly to his "hoped-for wife" Kamila Stosslova. A comprehensive selection of these letters has been translated and edited by John Tyrrell, the renowned Janacek scholar. Supported by a diary of meetings, a decoding of the erotic references in the letters and a selection of mostly unknown photographs, this remarkable book illuminates the inner life of one of the greatest opera composers of the twentieth century.
The New Grove Turn of the Century Masters. John Tyrrell. W.W. Norton & Company. 1985. ISBN 0393016943 (paperback).

Comprehensive biographical articles taken from the New Grove Dictionary of Music & Musicians. Included are: Leoš Janáček, Gustav Mahler, Richard Strauss, Jean Sibelius.
---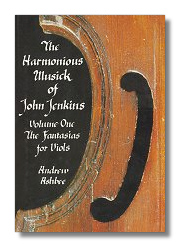 The Harmonious Musick of John Jenkins, Volume One: The Fantasias for Viols. Andrew Ashbee. Toccata Press. ISBN 0907689345 (hardcover).

This first-ever study of one of the most important composers of Carolingian and Cromwellian England, John Jenkins (1592-1678), recreates the England of those turbulent days and examines the music composed by this outstanding but neglected figure. Dr. Ashbee is the acknowledged expert on Jenkins and his music.
John Jenkins and His Time: Studies in English Consort Music. Andrew Ashbee (Editor), Peter Holman (Editor). Oxford University Press. 1996. ISBN 0198164610 (hardcover).
---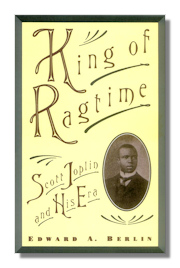 King of Ragtime: Scott Joplin and His Era. Edward A. Berlin. Oxford University Press. 1994. ISBN 0195087399 (hardcover), 0195101081 (paperback).

Written by Edward A. Berlin, a renowned authority on ragtime, this extraordinary book has been quickly accepted as the definitive work on Joplin's life and music. It reads almost like a detective story as Berlin leads us through a succession of clues, deductions, and discoveries, producing startling new information unsuspected by previous Joplin biographers. Painting a vivid picture of the ragtime years and placing Scott Joplin in his historical context, King of Ragtime brings to life the story of a post-Civil War African American who found in the world of music a way out of poverty and lowly social status.
Scott Joplin - A Guide to Research. Nancy R. Ping-Robbins. Routledge (formerly Garland Press). 1998. ISBN 0814083997 (hardcover).

A comprehensive survey of the status and history of the ragtime genre, as well as the state of Joplin scholarship to date. Included is a detailed chronology and listings of selected ragtime editions, an annotated bibliography examining scholarship on Joplin and on ragtime in general. Serves as a reference to scholarship on Joplin, ragtime music and its composers and performers, groups, periodicals, clubs, societies, and festivals.
---
Josquin Des Préz. Timothy Steele. Garland Publishing. 2002. ISBN 0815324359 (hardcover).
The Josquin Companion. Richard Sherr (Editor). Oxford University Press. 2000. ISBN 0198163355 (hardcover).