Related Links
Recommended Links

Site News
CD Review
The Barbirolli English Music Album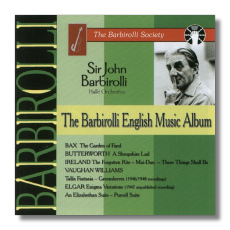 Arnold Bax: 'The Garden of Fand'
George Butterworth: 'A Shropshire Lad'
John Ireland:
'The Forgotten Rite'
'Mai-Dun'
'These Things Shall Be'
'Fantasia on Greensleeves'
Fantasia on a Theme by Thomas Tallis
Enigma Variations Op. 36
Bavarian Dance #2
'Lullaby'
Henry Purcell arr. Barbirolli:
An Elizabethan Suite Suite for Strings
Hallé Choir/Parry Jones
Hallé Orchestra/John Barbirolli
Dutton Laboratories/Barbirolli Society CDSJB1022 140m ADD
Dutton has plied us with this wonderful Christmas present featuring a number of rare recordings of English music by Sir John, whose mastery in this particular genre was quite unparalleled. The Garden of Fand is informed with just the right dose of mystery and beauty whilst Butterworth's 'Shropshire Lad' is romantic to the hilt with the music coming to life in remarkable colour.
I was chuffed by the three Ireland pieces, which I had only known in Hickox's rather bland versions on Chandos. This is a whole new ball game with Barbirolli informing 'The Forgotten Rite' with a certain intrinsic savagery whilst 'Mai Dun' is chillingly sinister in its portrayal and subject matter. The choral ballad 'These Things Shall Be' also comes quite starkly alive in 1957 stereo with Parry Jones, a stimulating and refreshing tenor on all counts.
The second disc is chiefly concerned with more familiar Barbirolli fare. The famous Pye recordings of Vaughan Williams 'Greensleeves' and Thomas Tallis fantasias are reproduced in stunning sound and they remain my particular favourite for these overplayed works. They are also available on CD for the first time, a tribute to Michael Dutton's unhesitant raiding of the archives.
Next is another 1947 'Enigma Variations', this one was never released for public consumption but is typically fiery and romantic in its character portrayals. The accompanying Bavarian Dance is also full of characteristic charm and is another EMI mystery. The final pieces on disc are strong, bold performances of Purcell parts arranged with loving care by Barbirolli and played with unashamed zest by the Hallé. What a wonderful compilation, it is indeed a glorious reminder of Sir John's prolific career that gave us so many recorded wonders.
Copyright © 2002, Gerald Fenech